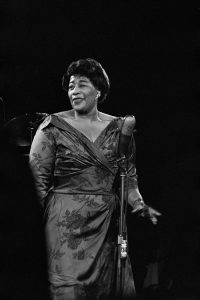 Ted Williams (1925-2009) first heard jazz on the radio as a youngster in the 1930s in Wichita, Kansas. The sounds of Earl Hines, Duke Ellington and Cab Calloway broadcast from Chicago's legendary Grand Terrace Ballroom inspired him and in the late 1940s, Williams merged his love of music and photography and moved to Chicago where he captured unguarded photographic studies of some of the era's greatest jazz musicians.
His work appeared in major international publications including Time, Newsweek, Look, Playboy and Ebony. His coverage of the 1958 Newport Jazz Festival landed him a spectacular 21-page layout in Down Beat magazine. Williams was active on the jazz scene from the late 1940s until the late 1970s. He photographed many of the greats in jazz, including Ella Fitzgerald, Duke Ellington, Dizzy Gillespie and Louis Armstrong. Williams' historic archive runs to more than 100,000 images and comprises perhaps the most intimate and complete collection of Jazz's greatest musicians at work, rest and play.
Ted Williams Iconic News
If you lived in Chicago when jazz ruled the world, you knew the address of the Blue Note by heart.  Run by Frank Holzfeind, the original Blue Note proudly displayed a sign on the front door that read: "Here is America's Music as Played by Its Greatest Jazz Artists."  Every name in jazz graced its stage, with Duke Ellington even recording his famed 'Live at the Blue Note' album there in 1959.
Read the full article