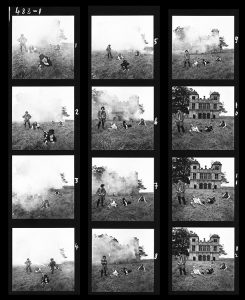 Michael Joseph was born in Kimberly, the Capital of South Africa's Northern Cape Province, in 1941. His father was heavily involved in Anti-Apartheid activities, especially fundraising, and all of this gave Joseph early exposure to politicians and social reportage from South Africa. On arriving in London in 1962, Joseph studied at The London College of Printing and Graphic Arts. During his time at University he was sent to Vietnam to photograph the war and as a result he was commissioned to many advertising assignments and made his name as a photographer. In June 1968, Michael spent two days with the Rolling Stones at Sarum Chase in Hampstead and Swarkestone Hall Pavilion, Derbyshire, shooting a series of images that were intended to be used on the cover the album "Beggar's Banquet." Due to a dispute between the band and their then record label, the photos were not used but are today widely considered to be some of the best ever taken of the band. Joseph went on to have a very successful career working on fashion and advertising campaigns. To this day he is still rarely seen without a camera.
Michael Joseph Iconic News
Iconic Images welcomes Michael Joseph to the archives.
Iconic Images now offers limited edition, fine-art prints from the Michael Joseph archive.
Read the full article