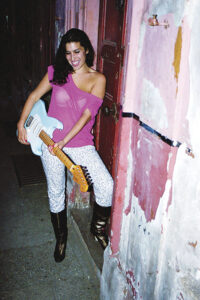 Charles Moriarty is from Dublin, but moved to London at the age of 18. In 2003, he started working as a stills photographer in the music industry and on the London social scene. He has worked with Amy Winehouse, Hercules and Love affair, the TATE, BFC, USB, VICE, DIESEL, Damon Albarn, 1814 magazine, Flaunt magazine, High Snobiety, METRO and many more. Charles was also the stills department manager for Lucas Film's 'Star Wars episode VII, The Force Awakens'. In 2017 he self-published his first book, Before Frank, revealing for the first time many of his unpublished photographs of Amy Winehouse. In 2018 the book was republished by Octopus Publishing, under the new title, Back to Amy, including more than 50 new photos added and insightful interviews with people close to Amy. His work is part of the permanent collection at the National Portrait Gallery.  Charles continues to shoot, specializing in advertising, editorial, portraiture and live performance photography.
Charles Moriarty Iconic News
The 23rd July 2021 marks 10 years since the passing of award-winning singer-songwriter Amy Winehouse. To honour the legacy left by the icon, Iconic Images and Charles Moriarty present an unique offer.
Read the full article