This week we look at a photo deemed too controversial for promotional use at the time; it wasn't published until 30 year later, on the cover of The Sunday Times Magazine. The photo was recently back in the headlines after it was revealed that Kourtney Kardashian purchased the print which proudly hangs in her home.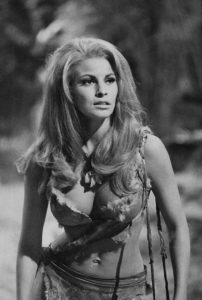 "My friendship and working relationsip with Raquel (Welch) goes back more than fifty years now. I worked with her when she was starting out and the camera loves her. Well, everyone loves her!" laughs Terry. "Our friendship lasted all this time because besides being a very talented actress, she's just a wonderful person, clearly gorgeous and has a heart of gold. She's a classy lady. Doesn't get nearly the credit she deserves as an actress. Shes's also a great cabaret performer. I remember Raquel singing with Tom Jones for the television specials – she's got a great voice."
So, how did the photoshoot happen?
"In 1966, I went to the filming of One Million Years B.C. This was Hollywood, and in 1966 Hollywood has just reached the point when the censorship laws that had choked film making for about forty years had finally become a thing of this past. Naturally the filmmakers knew that a scantily clad Raquel Welch was going to draw all sort of attention. Raquel, as beautiful as she is, was still a bit shy about being filmed in her now infamous fur bikini. She told me she thought she'd be crucified by the press for it. And I thought, 'That's it!"
"I somehow got 20th Century Fox studios to set up a giant crucifix for me and I took a series of shots, in colour and black and white, from different angles. They are beautiful shots but we both looked at them once th film was developed and we both got a little nervous. I was brought up Catholic and I did study to become a priest for a while. I feared people might think th wrong thing, so I decided not to publish the photos."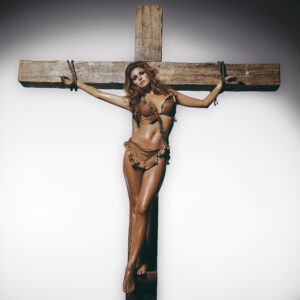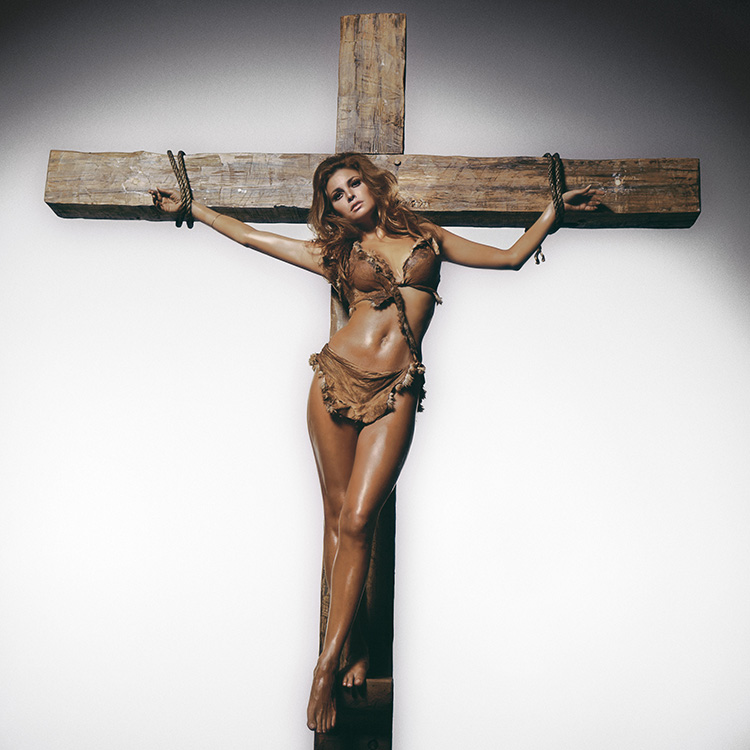 What made you decide to publish them?
"Well about thirty years later, Robin Morgan, who was the editor of The Sunday Times Magazine in London, found these photos in a box in my studio. He thought they were extraordinary so we decided to go ahead and use them. This is now one of my most reproduced images. I think it especially appeals to women because, I'm told, they identify with the idea that other people can make women feel horrible about themselves. Raquel is beautiful and the media often made it sound like that was all there was to her. They did crucify her at several points in her career. Younger women, especially, have told me that this a piece of 'feminist art'. I can't imagine what the reaction would have been to this in the late 60's."
"I think a lot of people forget that unlike today, the photo you see if the photo we took. There's no airbrushing, retouching, adding things on, taking things off."
Co-signed prints are available signed by both Terry O'Neill and Raquel Welch in 30×30 and 40×40. Contact jackie@iconicimages.net or visit our Fine Art Prints page.
See more from Terry O'Neill's archive : https://iconicimages.net/photographers/terry-oneill/