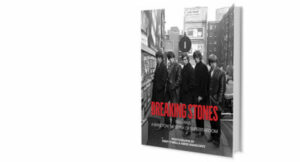 In July 1962, a group of young men played a gig at The Marquee Club on Oxford Street, London. They called themselves 'The Rollin' Stones' and little did they know they would soon be making music history.
This evocative new book captures the youth, the times and the spirit of The Rolling Stones' formative early years, 1963-1965. Terry O'Neill, aged just 25, had a few years' experience photographing musicians and knew that this group had the same magic as another British phenomenon that just recently started to chart, The Beatles. As the band was starting to record and tour, Gered Mankowitz came along. His first shoot, the now famous Mason's Yard session, was so fruitful, Gered was asked to tag along on tour to America. Gered was a mere 19 when he picked up his camera and joined the band on stage in 1965. Between these two legendary photographers, they chronicle the band's beginnings and these indelible images are forever placed in music's consciousness.
Iconic Images & Proud Galleries London presents 'Breaking Stones 1963-1965: A Band on the Brink of Superstardom' photographs by Terry O'Neill 7thApril – 5th June 2016-02-18.
Proud Galleries London is pleased to announce Breaking Stones 1963 – 1965: A Band on the Brink of Superstardom, an exhibition documenting the youth and dynamism of The Rolling Stones' early formative years by esteemed photographer Terry O'Neill. This exhibition will be launching at Proud Chelsea in conjunction with the release of the highly anticipated book of the same name.