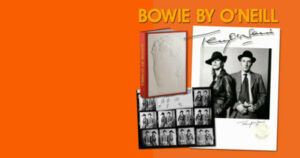 Iconic Images and Red Engine Media have teamed up with DavidBowie.com to give away a print of David Bowie and William Burroughs signed by Terry O'Neill.
Included in this book for the first time are images from this lost session, reproduced from a packet of negatives recently recovered during the production of the book.
For your chance to win, simply sign up to the mailing list at http://www.bowiebyoneill.com – if you've previously signed up, you will be automatically re-entered.