Iconic Images Gallery announces that Bond: Photographed by Terry O'Neill is now available as an online exhibition
As we are unable to open our gallery doors to you, we are bringing the exhibition to your home.  Iconic Images Gallery is pleased to announce that our new exhibition, Bond: Photographed by Terry O'Neill, will be available to view online. Through a virtual walk-through app, online catalog and new original content and stories from the book of the same name – fans will be able to virtually walk-through a tour of some of Terry O'Neill's greatest images that captured the world of James Bond.
Timed to coincide with the launch of the book, Bond: Photographed by Terry O'Neill, The Definitive Collection, edited by James Clarke and published by ACC Art Books, this exhibition is sure to enthrall fans and celebrates the collaboration of two great icons: Terry O'Neill and James Bond.
The Iconic Images website will be updated throughout the coming weeks with excerpts from the new book as well as further original content from film historian James Clarke.
More information on the exhibition:
Looking back on his adventures in the Bond world, O'Neill recalled: 'I photographed the first Bond film, but I've lost all the pictures. When we started, we all thought it was going to be a one or two film thing. We never dared to think it was going to turn into this huge franchise. What's great about it, and I think it's the real secret to why it's been so successful for so many years, is that with each decade, each James Bond, they have really kept up with the times. Sean Connery in the 1960s was cool and classic; he really fits that decade. Roger Moore in the 1970s added more humour; very Cary Grant. In the 1990s, Pierce Brosnan came aboard and added a real style. Then Daniel Craig ―he's the perfect modern Bond."
View the online catalogue of exhibited works
From Goldfinger to Diamonds are Forever, Live and Let Die to On Her Majesty's Secret Service, no other photographer has captured as many Bond moments as the late Terry O'Neill.  On exhibition at Iconic Images Gallery will be classic work with the famed film franchise, including portraits and on-set photography and rare, one-of-a-kind original press prints, signed by Terry O'Neill.   Also on exhibit are two very special unique images:  Roger Moore as Bond, signed on the front by Roger Moore and Terry O'Neill and Honor Blackman as Pussy Galore, signed on the front by Honor Blackman and Terry O'Neill.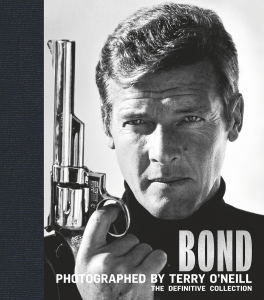 Bond: Photographed by Terry O'Neill - The Definitive Collection
Iconic portraits and contact sheets from Goldfinger, Diamonds are Forever, Live and Let Die, Golden Eye and the Bond spoof, Casino Royale
The new James Bond film, No Time to Die, releases world-wide in 2020
Documented by one of the world's greatest photographers: Terry O'Neill
Contributions from actors including George Lazenby and Jane Seymour
Includes a foreword by Robert Wade and Neal Purvis, screenwriters for the latest Bond film, No Time to Die
Take a sneak peek at the new Bond book