On this World Photography Day we talk to multi-disciplined photographer Tom Zimberoff about how he came to be a professional in the art.
"While I was at college, consumed by music lessons in 1970, my interest in photography was only simmering on the back burner of consciousness. But I'd already started carrying around a secondhand Pentax Spotmatic.
One morning, I arrived on campus early enough to kill some time before classes and rehearsals began.

 As I wondered what there was to photograph on this dreary day, a man burst through the doors of the Doheny Library across the quad. He was on the run. He had a knife. He tossed it. Several people came after him in hot pursuit. I joined the chase, holding my Pentax up to my eye, clumsily winding and clicking. Stop. Start. Stop. Start again. It was hard to focus, let alone hold the camera steady, with my clarinet case slung over my neck, slapping against my hip. Our quarry holed up, just a few hundred yards away, inside a classroom. He had strangled a woman and then stabbed her seven times. She lay wounded, nine levels down in the library stacks.
Waiting for the cops, along with a small crowd, I responded to a tap on my shoulder to meet the student editor of the Daily Trojan, the school newspaper. One of my pics made it onto the front page: the victim, still alive, being carried out of the library on a gurney. Not a great photo. But it was my first time in print! I got nothing usable of the assailant during the chase.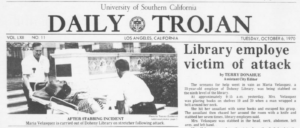 From that time on, I mingled with the DT staff photographers. They were journalism majors whose earnestness about photography was inspiring. During my sophomore year, in 1971, the USC cinema school proffered an elective class in still photography. I enrolled. A few weeks into the course, on a Friday, my classmates and I were given an over-the-weekend assignment. Find a story, shoot it, process the film, make prints and mount them on storyboards for show-and-tell the following Monday.
The following night, Saturday, instead of doing my homework, I was in a Beverly Hills nightclub called the Daisy playing pool with a high school friend, Steve, the son of famous jazz vocalist Mel Tormé, aka the 'Velvet Fog'. We were underage, but another friend's father owned the club. The Daisy was a private club. You might see Frank Sinatra, Jimmy Caan or Richard Pryor there on any given night. It's where I first met Life photographer Gordon Parks. 
Suddenly, I was witnessing another incident. The star of TV's mega-hit, The Beverly Hillbillies, Max Baer Jr. barged in yelling for help. His huge Open Road recreational vehicle caught fire in the street, right in front of the Daisy. Flames were licking the grill when he bailed out without pulling the handbrake. That big box rolled backwards onto the curb at the intersection of Dayton Way and Rodeo Drive, in front of the Beverly Wilshire Hotel, and stopped beside a corner traffic light-cum-street sign. An old-fashioned fire alarm box (break glass in case of emergency) was attached to the traffic light post. 
Steve grabbed a fire extinguisher from the kitchen inside the Daisy. The two of us ran outside. I ran to get my Pentax out of my little Fiat parked in the lot next door, just in time to catch Steve reaching up to pull the fire alarm. The proverbial who, what, when, and where were visible in my viewfinder. Click! We were soon surrounded by firefighters. 
It was about 10 o'clock. There was a phone booth inside the Daisy. I called the AP. No answer. I called UPI next (the erstwhile United Press International). Someone working overtime picked up. I told him what happened. He urged me to rush downtown so he could 'soup' the film. I ran two red lights.
I got the shot! UPI offered me $15. I said no. I wanted $100. I may not have been a skilled enough negotiator to walk away with a Benjamin, but I was — and remain — the first and only photographer to demand and then get my name on a picture that ran on the UPI wire: "UPI Telephoto by Tom Zimberoff."
Sundays are often slow news days. For that reason my photo not only ran on the wire without getting bumped by more important breaking news, but it made the front page of newspapers from California to New York. I brought my above-the-fold photo, as it appeared on both the New York Daily News and the Los Angeles Herald-Examiner, into class to fulfil my assignment. My instructor told me I didn't have to come back for the rest of the course. I passed."


What is your favourite camera to work with today? - Hasselblad 907X CFVII 50C with 65mm f2.8 normal lens


What was your favourite camera of all time? - Leica M4"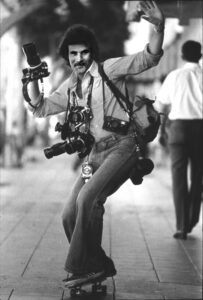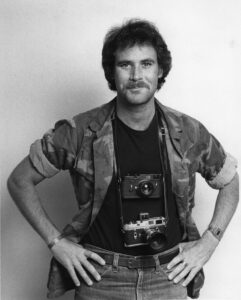 View more of the Tom Zimberoff collection available from Iconic Images.
Purchase fine art from the archive: iconicimagesstore.net or contact: sales@iconicimages.net
License photography from the archive: iconiclicensing.net