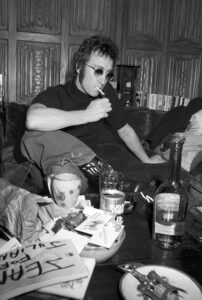 Tom Zimberoff was born in Los Angeles, a child of the Fifties. He was raised there and in Las Vegas, Nevada. As proficient with a clarinet as with a camera, he succumbed to the lure of photography while studying music at the USC School of Performing Arts.
Having begun his career in rock 'n roll photography, touring with The Jackson-5, Stevie Wonder, The Rolling Stones, and Stephen Stills among others, he moved over to television and motion picture stills for advertising. After that he embarked on a career in photojournalism, spending several years in, among many other places, Central America working for Time and other magazines as a member of the Sygma Photo Agency and, later, Gamma-Liaison. His photographs have appeared on the covers of Time, Fortune, Money, People, and numerous other magazines.
Zimberoff portraits are found several notable collections, including the National Portrait Gallery in London, the Israel Museum in Tel Aviv, the Corcoran Gallery Of Art in Washington, DC, the Los Angeles County Museum Of Art, the Performing Arts Library & Museum in San Francisco, as well as several corporate collections and university libraries. His first two portrait subjects were Marx and Lennon -- that's Groucho and John, of course.
Tom Zimberoff Iconic News