On this World Photography Day we talk to famed music photographer, Gered Mankowitz about the tools of his trade.
"When I was about 11 or 12 years old my father Wolf Mankowitz was working on a project with the great comic actor Peter Sellers and invited him to our house for Sunday lunch. Peter was an enthusiastic amateur photographer and brought with him a large 5x4 Polaroid camera and a complete Hasselblad 500C kit. 
After taking some magical Polaroids of my brother Jonathan apparently standing in the palm of my hand like Tom Thumb, he gave me a guided tour of the Hasselblad, describing every detail in a Swedish chef Goon type voice. I was falling over with laughter and forever associated the camera with joy and laughter and knew I wanted to be a photographer!
My first professional camera was the Hasselblad 500C. I purchased it from the Piccadilly Photo Centre in Piccadilly Arcade around September 1961 using the proceeds from a small Insurance Policy my father had taken out when I was born. It was my primary camera throughout the 60s and various upgrades saw me through until the digital revolution when I brought a Hasselblad H3D.
Here I am photographing my father in his office with the camera!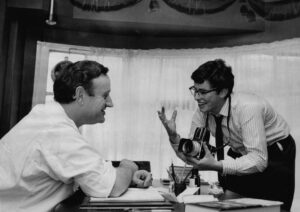 I currently use a Hasselblad X1D50 but the Hasselblad 500C remains my all-time favourite camera."
View more of the Gered Mankowitz collection available from Iconic Images.
Purchase fine art from the archive: iconicimagesstore.net or contact: sales@iconicimages.net
License photography from the archive: iconiclicensing.net