On this World Photography Day we spoke with the Milton H. Greene archive to ask about the tools of the legendary Marilyn Monroe-photographer's trade.
"Milton started his career in 1947. He shot with small second-hand, early Kodak and obscure film cameras until he was able to purchase his first Rolleiflex, which was considered the portable lightweight camera that allowed the photographer to shoot candidly and rapidly. 
Keep in mind, at the time, most photographers were shooting view cameras with sheet film sizes of 8x10, 5x7 and 4x5. Don't forget the newspaper press photographer in the street with a 4x5 Graflex camera and the lightbulb going off when he takes the shot. Nothing spontaneous and portable about that equipment.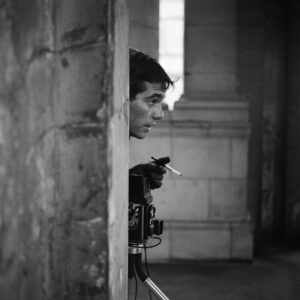 Though trained with view cameras, Milton found a new freedom to be spontaneous and shoot from new perspectives without a tripod. The Rolleiflex revolutionized photography. Particularly for a fashion photographer who enjoys shooting on location.
The Rolleiflex was a twin lens reflex, which means that there are two lenses, the upper lens, the photographer looks down into a mirror and sees a lens. The lower lens captures the image to the film which is simulated above. 
Milton went on to own 35mm Leica, Canons and Nikons. But his love of the square format of the Rolleiflex remained his favourite. In the late 1960's, when Hasselblad became professional photographer's tool of trade, the sound and the feel of the equipment was distinctive. It was that 'ka-thunk' and the wind. That melody fuelled the fashion world like a Harley Davidson. The square format ruled, whether on earth or to the moon."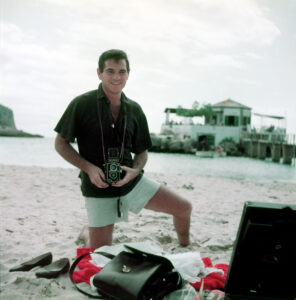 View more of the Milton H. Greene collection available from Iconic Images.
Purchase fine art from the archive: iconicimagesstore.net or contact: sales@iconicimages.net