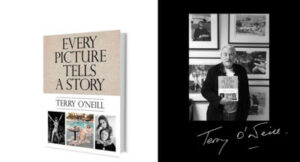 To celebrate the launch of Terry O'Neill's upcoming release, we're offering a chance to win a SIGNED copy of Every Picture Tells a Story! All you have to do is sign up to our newsletter below to be in with a chance to win.
For the first time in book form, Terry O'Neill one of the greatest photographers of the last 60 years reveals the stories behind his most iconic images. From the morning he spent with Faye Dunaway at the pool in Beverly Hills, to walking around Vegas with Sean Connery dressed as James Bond, a chance encounter with Bruce Springsteen on the Sunset Strip, to taking Jean Shrimpton to a doll hospital – these are the stories behind the images as only Terry O'Neill can reveal.
From The Beatles to The Rolling Stones, Terry O'Neill fast became the photographer of the 1960s. Having an eye – and ear – for music and musicians, he instinctively knew what bands to focus on. And they in turn trusted him. Music lead O'Neill to Hollywood and working with stars resulted not only in to memorable moments but long-lasting friendships. He travelled with Frank Sinatra. Took Raquel Welch to the beach. Went in the ring with Ali. Put The Who in a cage. O'Neill captured many of the most unforgettable faces from the frontline of fame, and his photographs exude his own brand of serene simplicity, intimate behind-the-scene moments and the rare quality of trust between photographer and subject.
The list of people Terry O'Neill has worked with over the past 60 years is a Who's Who in celebrity; from film to music, sports to politics. Terry O'Neill: Every Picture Tells a Story is like going through a walking tour of memory by a man who has seen, met and photographed them all.
Winners will be announced on Friday 18th of November.