Iconic Images are offering the chance to win a copy of 'Breaking Stones' signed by Terry O'Neill and Gered Mankowitz.
This month, Iconic Images have a special competition, featuring two remarkable photographers who came together to create 'Breaking Stones'.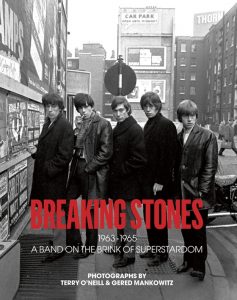 This brilliant book captures the youth, the times and the spirit of The Stones' formative early years. Documenting 1963-1965 were two young photographers just starting out in their careers. Terry O'Neill, aged just 25, had a few years' experience photographing musicians and knew that this group had the same magic as another British phenomenon that just recently started to chart, The Beatles. As the band was starting to record and tour, Gered Mankowitz came along. His first shoot, the now famous Mason's Yard session, was so fruitful, Gered was asked to tag along on tour to America. Gered was a mere 19 when he picked-up his camera and joined the band on stage in 1965. Between these two legendary photographers, they document the band's beginnings and these indelible images are forever placed in music's consciousness. The photography throughout this book is embellished with various memoires and interviews, celebrating the early days and giving an inisght into what it must have felt like to go from a small club in Soho with no record deal to touring the world a few years later with a number one record. Terry O'Neill and Gered Mankowitz, two of the most respected, collected and exhibited photographers in the world were sitting in the front-row.
The critically acclaimed book was released in 2016 and is one of Terry O'Neill's most popular publications to date. We've got our hands on a copy signed by BOTH Terry O'Neill and Gered Mankowitz.
For a chance to win, just sign up to our mailing list!
Don't worry, if you've already signed up, you're automatically entered!
Winner picked at random on 30th April 2017.