THE ICON OF BRITISH ROCK, THE POP LEGEND HONORED BY RAYMOND WEIL.
In collaboration with the David Bowie Estate, RAYMOND WEIL pays homage to legendary musician – David Bowie. The Limited Edition freelancer "David Bowie", is a tribute to the life and musical career of one of the most influential artists of all time. Created to celebrate what would have been Bowie's 70th birthday, this timepiece is dedicated to a few of the many personas created by David Bowie, an artist with unparalleled creativity, a singular visionary, a man of a thousand faces and voices. Bowie's boundless talent and fearless innovation shone through his final masterpiece, ★, released last year to some of the best critical notices of his distinguished career and winning five Grammy Awards and two Brit Awards in 2017.
To celebrate the immortal David Bowie, RAYMOND WEIL has chosen its most freespirited model – freelancer. Its 42mm diameter case contains a dial resembling a vinyl record clearly featuring some of the most emblematic design cues of the British artist. Amongst the key design features, the lightning bolt painted across his face that first appeared on the cover of the Aladdin Sane album in 1973. The instantly distinctive mark universally recognized, the stylized lightning bolt is featured in red at 12 o'clock. The pop art logo designed by Andy Warhol especially for David Bowie and revealed on the cover of the album Diamond Dogs in 1974 makes its mark on the dial of the David Bowie Limited Edition.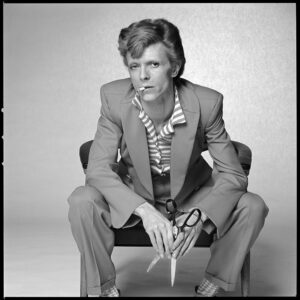 Produced in a 3,000-piece limited, numbered series, the freelancer "David Bowie" beats to the tempo of a mechanical self-winding movement that appears beneath a portrait of David Bowie, immortalized in 1974 by famous photographer of legends, Terry O'Neill.
"I've always felt that there was a real synergy behind great timepieces and photography. The precision of keeping time is akin to a photographer needing to know the exact moment to capture an iconic image. As a watch collector myself, this RAYMOND WEIL collaboration is a wonderful project to be affiliated with. Their watches are a thing of beauty. I'm thrilled they've selected to pay tribute to David Bowie in such a way and I'm honoured to be a part of it." Terry O'Neill.