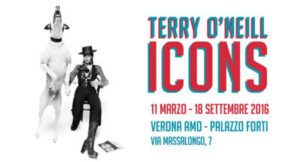 On display at AMO Arena Museo Opera in Verona, more than 60 of the most famous works by the legendary British photographer Terry O'Neill, who from the early '60s has dedicated his career to capturing the most famous personalities of his time with his camera transforming them in to icons.
The exhibition, curated by Cristina Carrillo de Albornoz, is a selection of his most renowned shots of actors, singers and models such as Sean Connery, the Beatles, Frank Sinatra, Elton John and Faye Dunaway the morning after her Oscar win forNetwork. An entire section will dedicated to David Bowie, one of the most iconic figures of the 20th century.
Spontaneous private moments often captured because of his personal relationship with his subjects, which make these images iconic and intimate at the same time. The exhibition, with the Patronage of the Comune di Verona, is promoted by Fondazione Arena di Verona and produced and organised by Arthemisia Group in collaboration with Iconic Images.
Arena Museo Opera in Verona, at Palazzo Forti. From 11 March – 18 September 2016
http://www.arenamuseopera.com/en/amo-in-exhibition/in-exibition/terry-o-neill.html