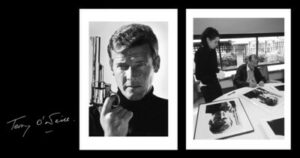 For over 3 decades Terry O'Neill captured photos on-set of the James Bond films, photographing 5 Bonds and over 20 Bond Girls. Arguably, none are more iconic than Roger Moore, the lead in 7 of the Bond features.
"I went to the set of Live and Let Die thinking I'd see Roger Moore, but I came out knowing that I just took photos of James Bond." – Terry O'Neill, Every Picture Tells a Story
These Limited Edition Prints are available in 20 x 24 and are signed by both Roger Moore and Terry O'Neill, with only 50 available.
For more information please contact : jackie@iconicimages.net or call on +44 207 535 3905