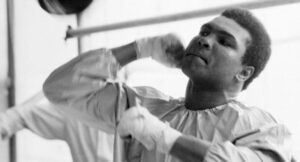 Muhammad Ali, Dublin, 1972
As Terry O'Neill remembers: It was the start of summer 1972 and Muhammad Ali was in Dublin training for a fight against Alvin Lewis. I flew over to take photographs and interview him for the Daily Express. I was doing some interviews at the time for the papers and they ran that story for three days. That's how big Ali was.
Ali was great to photograph. He paid no attention to me and was either training or raving about being the greatest – or he'd just sit in a room and say nothing for hours, watching training films of himself. He was a funny type of bloke – he was either all giving or saying nothing. He paid no attention to me as I was taking photos, he was completely focused. He was like Sinatra in that respect, driven and determined. Ali just created a stir – you knew when he was there. He was a magnetic character. They just don't make them like that anymore.
For more of Terry O'Neill's images, click here