As a photographer, one of the best gigs you could get was shooting an album cover.  And over his career as a photographer and art director, Ed Caraeff's work has been featured on several notable records, including Iggy & the Stooges 'Fun House', Captain Beefheart & His Magic Band's 'Trout Mask', 'Closing Time' by Tom Waits and Carly Simon's 'No Secrets.'
In this installment of Iconic Spotlight, Ed Caraeff remembers his days working with Tim Buckley.
"I liked Tim Buckley's music before I got the call to photograph him. His shows at the Troubadour were always a hot ticket.  And he always had beautiful model-looking girls around.  He was managed by Herb Cohen, who worked with a lot of the stars in the late 1960s-1970s, including Frank Zappa, Linda Ronstadt, Alice Cooper, Tom Waits – he was a good connection for me.  For that first photo session, it was just for getting some good publicity shots for Cohen, so I went down to Buckley's pad in Malibu, which was right on the beach.  I took a photo of Tim holding a Shangri-La album – he looks so young in these photos.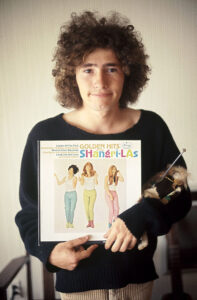 The first photo session between Ed Caraeff and Tim Buckley.
"About a year or so later, I got a call from Bob Heimall, Elektra Records NYC Art Director, who asked me if I'd be interested in working with Buckley for an album cover."   The album, Happy Sad, was Buckley's third and most successful of his career.  Recorded late 1968 and released in July the following year, Happy Sad features two images taken by Caraeff.  "The shots used for the cover and back were probably not returned to me, but I still have the out-takes.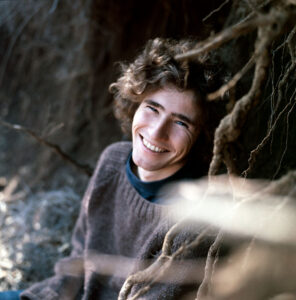 Out-take from the photo session for Happy Sad
"A few years later, I was called again, this time for his fifth album, Lorca.   They used my images for the front and back of the album."    Lorca, named after the Spanish poet Federico Garcia Lorca, was recorded during a prolific time in Buckley's career and would be one of two albums, the other Blue Afternoon, that he'd record in one month.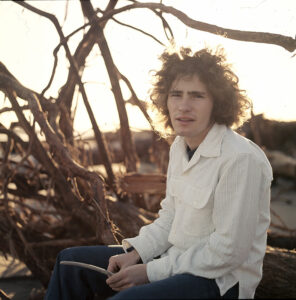 Out-take from the photo session for Lorca
"Now for the heavy memory.  The first time I worked with him was at his Malibu pad.  The session was during the early afternoon and I found him to be a very quiet man, man of few words, shy … same as me.  I asked to use his bathroom and I noticed various rubber tubes hanging over the shower road.  Later did I learn what these were used for."
Tim Buckley died of a heroin overdose in 1975 at the age of 28.   At the time, the music magazine Sounds wrote: "Tim Buckley is dead.  He died before he got old. Because he was still getting better. This was sudden, abrupt, unexpected, like a thief in the night. Tim Buckley albums were like that — are like that — they tend to catch you unawares."  Today, Buckley's legacy lives on through the albums he recorded and helped along by images – such as these by Ed Caraeff – that were captured during his too-short life.
See more from Ed Caraeff's archive : https://iconicimages.net/photographers/ed-caraeff/