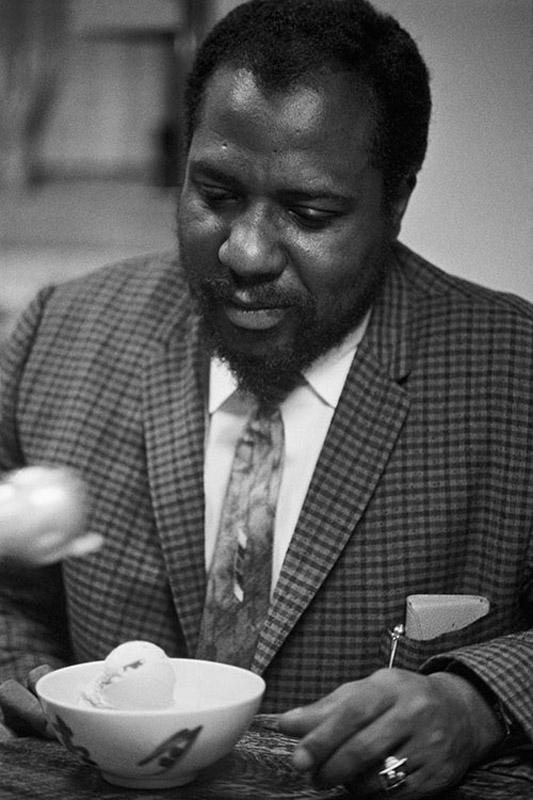 "I think Monk is one of the true greats of all time. If a guy needs a little spark, a boost, he can just be around Monk, and Monk will give it to him." – John Coltrane
There are a few people who have ever existed in the world who are fondly known by one name. In jazz, there's Duke and Billie, Coltrane and Ella, and then there's Monk.
From 'Round Midnight' and 'Straight, No Chaser' to his mind expanding provisional style on the piano, Iconic Images celebrates the life and career of Monk on the occasion of the centenary of his birth. As one of the only jazz musicians to have ever appeared on the cover of Time magazine and to have been awarded a posthumous Pulitzer prize, he is one of the 20th centuries greatest musicians.
Before Williams passed away in 2009, he jokingly remembered an interview between Monk and reporter Valerie Wilmer that took place in Chicago in 1961.
"My friend was very excited–she had just received an assignment to interview Thelonious Monk for Metronome magazine. She asked if I would shoot some pix. This was a big occasion for her and for me – I wanted to get his reaction to a shot I had taken of him at Newport.
"Arrangements were made and when asked about refreshments, all Thelonious wanted was vodka, fresh oranges and ice cream – I could just feel a very interesting interview coming up.
"Came the big day – Thelonious was pleased with the ice cream, not impressed with my Newport shot of him, 'Shit, that could be anybody!' and the interview went south from there. Our hero sipped a bit of vodka, sucked a few oranges, stretched out on the living room sofa and did not respond to any more questions.
As Valerie Wilmer accurately reflected, 'An interview with Monk takes patience.'
"Fortunately for my friend's professional pride, Thelonious returned the next day to complete or start the interview. To me, he didn't seem to be greatly more responsive that he was the day before, but what the hell, he wasn't Elvis – he was Thelonious!"
Limited edition fine art prints are available from the Ted Williams archive. To enquire, contact jackie@iconicimages.net or visit our Fine Art Prints Page.
See more from Ted Williams archive : https://iconicimages.net/photographers/ted-williams