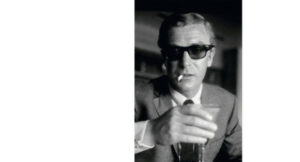 It's 1966 and the world was in the middle of Britain's Swinging '60. From the music to models, film to fashion, the 'Youthquake' cultural moment hit its stride. Capturing the images that are gracing the front pages and the covers of hungry newspapers and magazines, rising photography star Terry O'Neill had an access, all areas pass through this decade's most notable faces. From The Beatles and The Rolling Stones, Peter Sellers and Terence Stamp, Jean Shrimpton and Twiggy; O'Neill was one of the go-to photographers on the frontline of fame.
Michael Caine and O'Neill had sparked a friendship when Caine was at the very beginnings of his career. But it would take the filming of 'Funeral in Berlin' in 1966 to bring O'Neill together with Caine for the first time professionally.
That year was a turning point for the young actor. He starred in an incredible four films in 1966, including the now classic 'Alfie.' But it was his role as Harry Palmer the year before in 'The Ipcress File' that propelled Caine a moviestar. And with "Funeral in Berlin", he'd return as Harry Palmer for the hotly anticipated follow-up.
"Michael really embodies the characters he plays. He's one of the only actors who can take on a serious role one minute, a thriller the next and then follow up with a comedy. He's just incredibly gifted. Just look at what he did in the mid-sixties; he plays a serious detective the one minute, a sly comedy the next, and then back to the detective. I can't think of another actor that has so much versatility" remembers O'Neill.
O'Neill has photographed almost every major film star during a career spanning six decades but his friendships with many were never the key that unlocked his intimate access to them. "When working I stayed anonymous. I never joined the entourage, i stayed in the shadows to get my photographs. But of course I got to know them privately and I got to know them as ordinary people who happened to have jobs as rock or film stars. That enabled me to capture the real personality behind the image being projected on stage or screen. And Caine, yeah, he's a great mate."
Read more about the stories behind Terry O'Neill's photography in 'Every Picture Tells a Story', available signed.