This week Iconic Images speak to Simon Claridge, who has garnered international acclaim for his fine art interpretations of iconic figures on silkscreen, dappled with his now signature diamond dust finish. In his latest collection of limited edition diamond dust silkscreen prints, Claridge has taken images from the hallowed archives of legendary English photographer Terry O'Neill.
II: How did the diamond dust concept come about originally?
SC: I have always worked with iconic imagery and I wanted to do something to celebrate and hopefully enhance the original works. Diamonds are so symbolic of longevity and are most precious of stones so using it just seemed to be the perfect fit with this precious imagery.
II: The application of diamond dust seems is incredibly painstaking, can you explain more about the process of silkscreen printing and adding diamond dust?
SC: It's a secret the way its applied! I selected images that span several years of Terry's career. Each original work is uniquely lit and composed and I wanted to retain Terry's vision for each piece whilst at the same time creating a new considered collection where the pieces all worked together. The hardest image to work with in the silkscreen studio was the Raquel Welch piece and I lost count of how many screens I had to expose to get it just right but the final result was so worth it!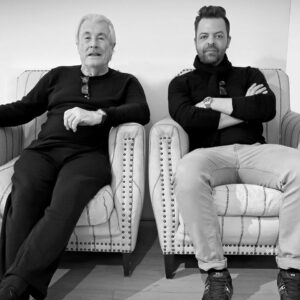 II: You met Terry O'Neill at the beginning of this process, is there anything in particular stood out to you when meeting him?
SC: I was very nervous before meeting Terry as his imagery has been such a huge influence for me, so to be able to work with him was truly a dream come true. He could not have been any cooler… they say don't meet your hero but Terry must be the exception to that rule as he was an absolute gentleman and has that amazing ability to make you feel the most important person in the world when you are speaking to him. I learnt a lot from our short time together and I hope to take those lessons forward with me throughout my career.
II: What do you think makes Terry's photography so iconic?
SC: Obviously the people he has shot are the most famous people in world but for me since meeting him it must be the way he makes people feel so comfortable in his company that he is then able to capture some truth from the people he is shooting.
II: Terry has an extensive archive spanning decades across music and screen, how did you decide which images to use for your collection?
SC: Choosing pieces to work with from such an exhaustive archive was the hardest part of this project as with everything I do i just have to go with my gut and thankfully it worked out.
II: Do you have a favourite photo from Terry's archive?
SC: It changes all the time, it tends to be the one I am printing at that moment but I do have a wall I'm my house reserved for the Sinatra boardwalk piece on canvas, subject to final approval from my wife!
Simon Claridge's new collection is available to view at Castle Fine Art on South Molton St exclusively until 28th May. Then the collection will be displayed across all Castle Fine Art spaces across the UK.

View more of Simon's work and view the collection online :
Website : https://www.simonclaridge.com/
Instagram : https://www.instagram.com/simonclaridgeart//
Facebook : https://www.facebook.com/simonclaridgeartist/