This week, Iconic Images discuss Terry O'Neill's time photographing icon, Sammy Davis Jr.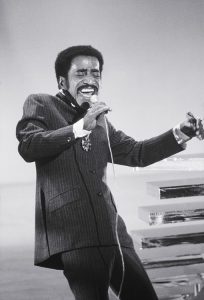 "It is hard for me to comprehend who I've taken photos of when I start to list the names. I really was working during the best of times—when the stars would really allow photographers to get close to them."
The role of a working press photographer in the 1960s meant that they were often granted the coveted all-access pass to live performances, studio recording sessions and film sets.
"There was really no limit on where I was allowed when I was working. Even in the early days when I was just starting out, I just didn't know what I was not allowed to do," remembers Terry.
"Now, most of these photos never amounted to much. Looking at this image (right), it's hard to imagine what newspaper or magazine would want to buy this. That was the goal, remember, to sell the image. I was working, after all. Thinking about it, it is some sort of miracle these negatives survive today. I don't know why I would keep them, fifty plus years later. Back then, you did the job, developed the film, tried to sell the photo and then moved on. No-one—and I mean no-one—was thinking long-term planning. We weren't wrapping the negatives up in tissue paper and storing them away for exhibitions or books that we would publish in our 70s!" He laughs. "That would have been ridiculous."
"Sammy was special, but I don't need to tell you that. He was a complete talent. He was not only one of the greatest singers who ever lived, he was all-round gifted.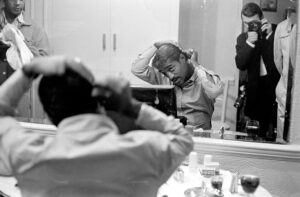 Even though he was diminutive in size, he commanded the stage like a giant. He was also a gifted comedian and actor and watching him on film still brings a smile to my face. The way he played around with whomever he was performing with, Frank Sinatra, Dean Martin, or one of a host of other world-class performers, he always held his own. I'm only sorry I didn't get the opportunity to work with him more. As accessible as he was when he was working, behind the scenes he was a very intense and private man.
"This photo is clearly one from backstage. And yes, that's me in the mirror, hard at work.
See more photographs of Sammy Davis Jnr : Photos of Sammy Davis Jr.
See more from Terry O'Neill's archive : https://iconicimages.net/photographers/terry-oneill/