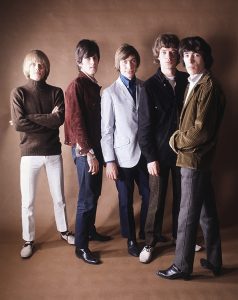 My first session with the Rolling Stones took place at my Mason's Yard studio around February or March 1965. I had met them a few weeks before at the office of their manager Andrew Loog Oldham, for whom I had photographed Marianne Faithfull a few months previously. Andrew seemed to think that my youth and comparative inexperience might result in me getting some raw and gritty images of his band. The guys and I seemed to get along really well from the outset, they seemed amused by my youthful enthusiasm, as I was only 18 years old.
Back in those days I had already established an approach to my sessions which included a few rolls of film in the studio and then a few more outside in both Mason's Yard itself and Ormond Yard which was the other side, as my studio was squeezed between the two. At that time there was a massive office building being constructed in St James's Square which backed onto Ormond Yard. On the morning of the shoot I approached the foreman and asked if it would be okay to shoot a band around the edges of the site and use it as a background. He wasn't bothered and the scene was set.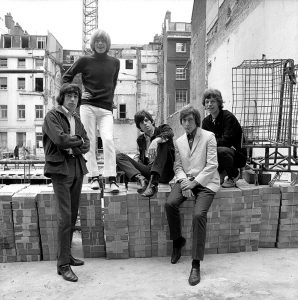 Album sleeves weren't planned or shot specifically at this time, and I had learnt that if I wanted my images to work on a sleeve then they had to fulfil certain criteria beyond just being good shots of the subjects. They had to have space for the title and, most importantly, room for the record company logo! So, I shot as much as I could with this in mind in the rather desperate hope that I might get a cover for the Rolling Stones.
Amongst the various set-ups that I took, one composition stood out immediately – some of the hoardings that were used to close off the site at night were leaning against an old brick wall and created a narrow triangular shape that I squeezed the band into. It worked perfectly, and fortunately Andrew Loog Oldham agreed and chose it for the sleeve of Out of Their Heads and I found myself with the cover of my dreams!
View Gered's full Rolling Stones archive here.
For more information about limited edition, fine art prints from Gered Mankowitz, contact us.