"I'm sorry I wasn't able to get more photographs of them. I just never got the chance except for this studio shot. I don't remember if this was a specific commission from the band or possibly from a magazine, but I was a huge fan of Freddie Mercury, so I gladly took the job."
Brian May and Roger Taylor played in a band called Smile before Freddie Mercury stepped in as lead singer and suggested a more theatrical approach. Once John Deacon joined, Smile was renamed Queen and their first album Queen was released in 1973. But it wasn't until their fourth album, A Night at the Opera in 1975, that the world would know Queen, thanks to their international number one classic 'Bohemian Rhapsody'.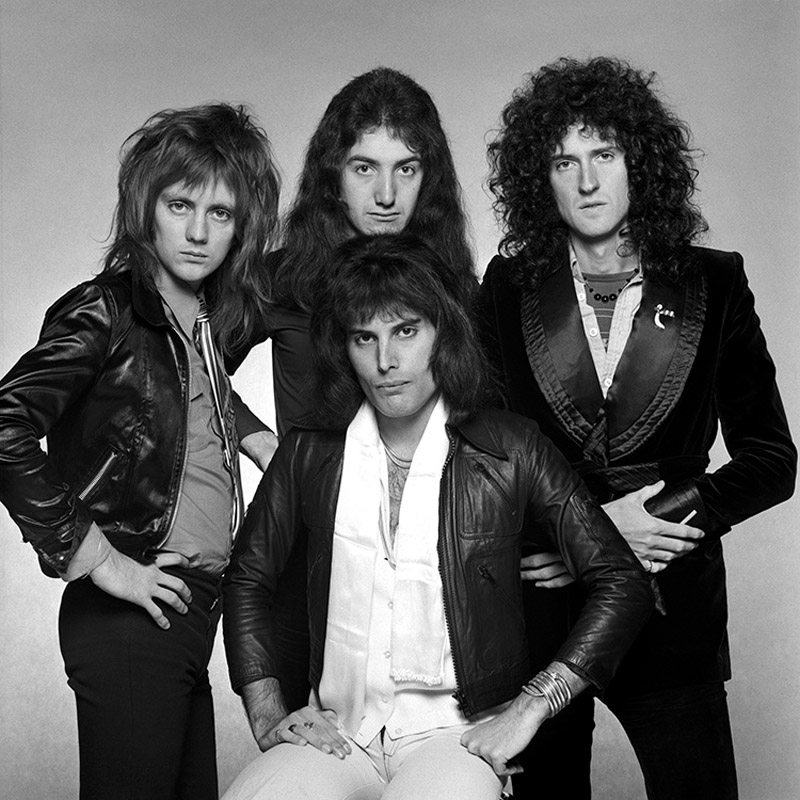 "Freddie did stand out from the rest. When they came in, you could just tell that they were going to be superstars. He had the most incredible voice, especially live. A huge talent.
"This photo was taken around that pivotal time in the band's career—going from successful recording artists, churning out an album a year, touring, sneaking into the charts, to the moment it all tips over and you find yourself at number one. And your life forever changes."
'Bohemian Rhapsody' went on to be one of the biggest selling singles of all times, claiming the number one position for nine weeks and is widely regarded as one of the greatest songs ever recorded.
"' Bohemian Rhapsody ' was a massive song—it felt like the only song released that year. A few years later, they followed up that number one hit with ' We Will Rock You' and ' We Are the Champions', silencing any critic who thought they only had that one hit in them. That's the pressure in music, you are only as good as your latest record. But with them, you just knew that this was going to be a major band that would be around for a long time.
"Tragically, Mercury died at the early age of 45. I have no doubt that had he lived, he'd be playing to 50,000 people in Hyde Park next weekend."
Read more stories from Terry O'Neil's career in 'Every Picture Tells a Story', available signed at the Iconic Store.
This image is also available as a limited edition, fine art print, signed and numbered by Terry O'Neill.
Enquire with sam@iconicimages.net