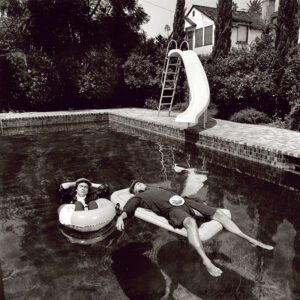 "Pete and Dud were one of the greatest comedy duos in Britain in the 1960s. Television sketches along with a string of films made both of these gifted comedians household names. I knew both of them really well and we always had a good laugh.
"Cook was renting a house in Beverly Hills with, of all people, Keith Moon. Moore was in Los Angeles, having just moved there to jump-start his film career. They were still very much a partnership and a year following this photo, would co-host Saturday Night Live during the show's infamous first season.
"Now, to have two Englishmen, in the bright sunshine of a Beverly Hills home, complete with a clear blue pool, is too tempting to resist as a photographer. So I asked them to change into their 'British clothes' and the stage was set.
"Out they came in their trenches and hats and after a few clumsy moments, they got into the pool and started to loaf around. Sure, we were completely playing up to the Britcliché, complete with the delicate cup of tea on Cook's stomach, but that only added to the absurdity of the situation. Talk about being fishes out of water! They looked ridiculous. Because Moore was diminutive in size, we had him in the smallest life preserver we could find. That only emphasised the visual mismatch, with Cook outstretched on his blow-up raft. Once I knew I'd got the shots, they struggled to get out of the pool gracefully. That ended in disaster with both of them falling back in. As they practically crawled out of the pool, I kept shooting. They took that opportunity to camp it up even further, emerging like two creatures from the black lagoon.
"At the end of the day, the three of us were just London lads living the life in Hollywood—the land of our dreams."
Also featured in 'Every Picture Tells a Story' signed by Terry O'Neill available at the Iconic Store.
This photograph and more are available to purchase as a limited edition, fine art print, signed and numbered by Terry O'Neill.
Contact sam@iconicimages.net for more information.