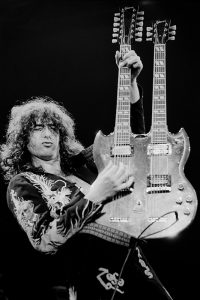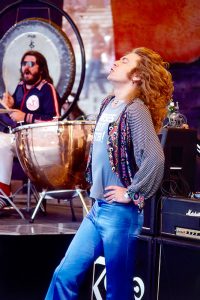 "They were pure rock – and I never saw a band perform quite like they did. They owned the stage and each member had their own special and specific contribution. And to see them live – to capture those moments onstage – well, it was like watching kings surveying their kingdom. Their kingdom was the stage." – Terry O Neill
Between 1975 and 1977, there is little doubt that Led Zeppelin ruled supreme as the biggest band in the world. Bigger audiences, bigger stage settings , bigger venues – lights, lasers and dragon suits. All this combined to produce some of the most iconic images of the 1970s rock era.
That era comes firmly under the spotlight in Led Zeppelin Live 1975 – 1977
The book profiles the work of three highly respected photographers. Terry O'Neill made his name documenting the fashions, styles, and celebrities of the 1960s. He was also on hand to capture Led Zeppelin at Earls Court in London on May 23, 1975, at Tampa Stadium, Florida on June 3,1977 and at New York's Madison Square Garden on June 7 of the same year. Similarly in the right place at the right time was Michael Brennan. Michael had built a reputation working for various daily UK newspapers in the UK. He moved to America in 1973 and began working on various entertainment and sporting assignments. In early 1975, Michael travelled with the band on their rented luxury jet, a Boeing 720B known as The Starship. He was then in close proximity for their show on January 31,1975 at Detroit's Olympia Stadium. San Francisco based former Rolling Stone magazine chief photographer Baron Wolman was in attendance to capture what would turn out to be the Led Zeppelin's final performances in America. In front of 50,000 fans each day they performed in the open air at the Alameda County Coliseum in Oakland California, on the afternoons of July 23 and 24,1977. Baron's chronicling of the band in stark daylight offers a unique portrayal of their final appearances in a large stadium setting.
Fifty years on from their formation in 1968, Led Zeppelin's legacy continues to inspire admiration and awe. The timeless photos presented in this book accurately capture Jimmy Page, Robert Plant, John Paul Jones and John Bonham in all their on stage glory during their latter era. Compiled and edited by world renowned Led Zeppelin authority Dave Lewis, Led Zeppelin Live 1975 -1977 chronicles the period when Led Zeppelin could rightly claim to be the greatest live rock attraction on the planet.
Here's the lasting photographic proof…