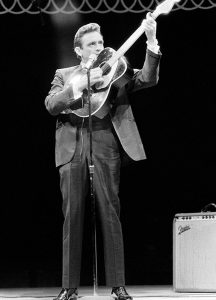 This week we speak with discuss photographing Johnny Cash with iconic photographer, Baron Wolman.
"For an early Rolling Stone assignment in December 1967, I traveled south from San Francisco to a suburb named San Carlos, California, where the venue, the Circle Star Theater was located. The Circle Star was a theater in the round that featured a rotating circular stage with, as Wikipedia explains, none of its 3743 (that's an odd number!) seats further than 50 feet from the stage and the performers. Frank Sinatra even performed at the Circle Star, but I was there to photograph Johnny Cash.
"I spent some time in their dressing room before the show began with Johnny and his wife June Carter Cash. We chatted and I made some pictures. Johnny was distant, probably thinking more about the show than the kid with the camera. Nevertheless, I was allowed to hang out longer than I expected. If you look at the dressing room photos you'll see a rather sullen Johnny Cash who doesn't look as if he's in the mood to perform, but perform he did and well, to the delight of the audience."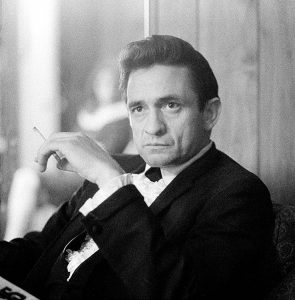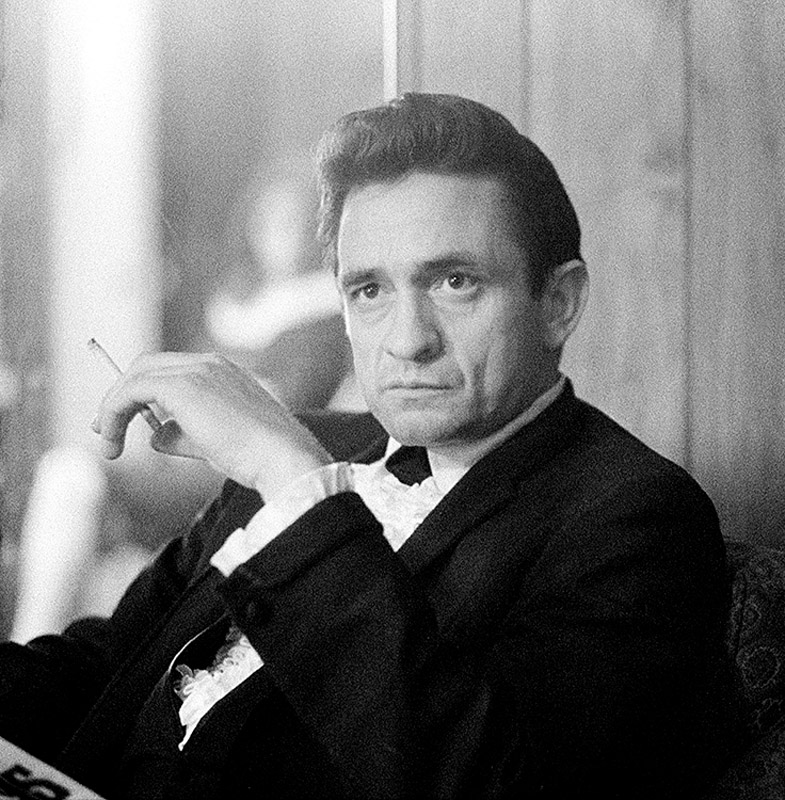 "In my favorite dressing room shot you'll notice the blurred reflection of June Carter Cash in the mirror. Until somebody pointed her out in a gallery exhibit of my photos forty years later, I had never even detected her…!!!
"The show was great, actually. My main challenge as a photographer was to wait until the rotating stage brought Johnny and the band around in front of my location and then to be prepared to quickly shoot as many frames as possible before they rotated out of sight again. Remember, in those days we had no motor drives, no auto-focus, no auto-exposure, none of the "modern conveniences" accorded music photographers of today.
"History took its toll on the Circle Star and, of course, Johnny Cash. The show room was demolished in the late nineties. Johnny passed away in 2003."
Baron Wolman's captivating photographs of Johnny Cash are available as limited edition, fine art prints in sizes from 11×14 to 30×40. For more information contact jackie@iconicimages.net or visit out Fine Art Prints Page.