British fashion model Twiggy, photographed by Norman Parkinson for British Vogue magazine, February 1967.
"In comes a big swing to gymslip pleats—neat pleats—pin thin or belted pleats, day pleats and night pleats.  Watch the swing." -British Vogue, February 1967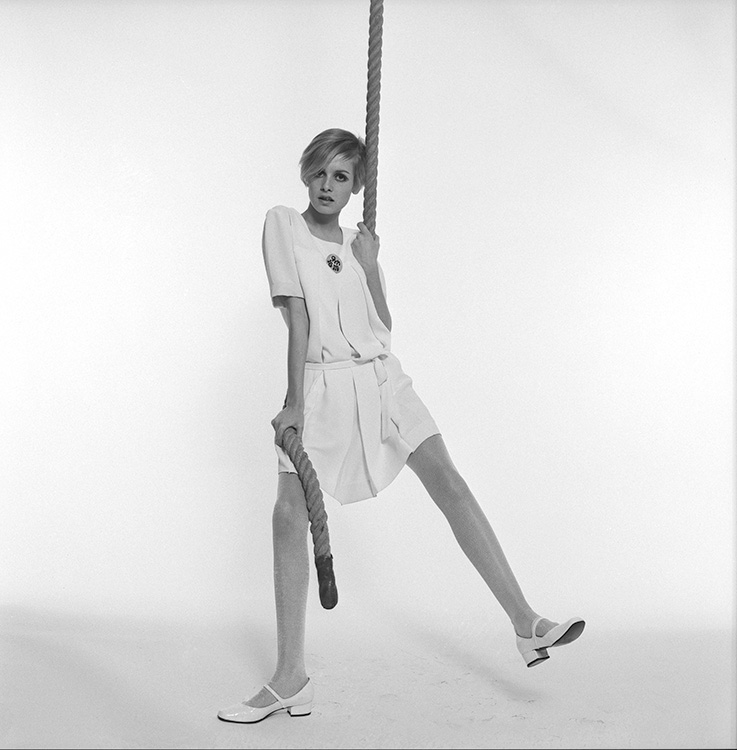 In 1967, Norman Parkinson, one of the most respected and admired photographers in the world, was asked by British Vogue to take a series of photos of their top model, Twiggy, for a feature called "Young Idea Says: Gym Is In."
The Gym, in this case, referred to the 'gymslip' pleats.
At the turn of the 20th century, female athletes found that the 'gymslip' pleat offered more comfort and movement, yet still offered modesty that was the social norm of the day.  As the decades moved on, many private schools started to adopt the gymslip as part of traditional school uniforms.
In the 1960s, however, when hem lines started to raise, the influence of the gymslip started to appear in fashion design for the modern woman.  Fun dresses and skirts were suddenly in vogue.  And Parkinson, known for his subtle sense of humor, matched Twiggy up with gym ropes, to harken back to the original purpose and namesake of this particular style, creating this wonderful "Gym is In" series.
Iconic Images is the proud exclusive representative of the Norman Parkinson Archive and are delighted to offer limited edition, fine art prints from the Norman Parkinson archive.
For more information regarding fine art prints, contact : sam@iconicimages.net
Our team of production specialists are scanning in Norman Parkinson's extensive archive consisting of over 500,000 negatives, the majority of which are completely UNSEEN. Keep checking back the Norman Parkinson Profile, for the latest updates.