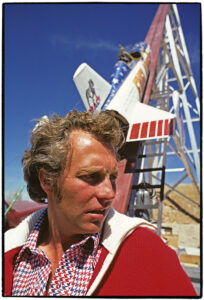 Newsweek magazine assigned me to photograph Evel Knievel when he was working on his feature film, "Viva Knievel!". I'll just say up front that Knievel was one of the most difficult people I have ever photographed. A real pain in the ass. To say he had a big ego was an understatement. This wasn't the first time I had to work with Knievel. Two years earlier I flew from New York to Idaho with his promoter Shelly Saltman. I was to photograph him for a Time magazine cover. Knievel refused. When Saltman's book on Knievel came out that painted a not-so-nice picture of Knievel, Knievel beat him up with a baseball bat. This was the kind of guy Knievel was. Knievel lost most of his sponsors after that. I was painfully aware that Knievel wasn't the kind of guy you wanted to be on the wrong side of for this assignment. I finally cornered him on the movie set long enough to capture this portrait of him. Then I hot-footed it outta there.
Written by Al Satterwhite
View more from the Evel Knievel archive by Al Satterwhite here.
Contact sales@iconicimages.net for more information about fine-art prints from the Al Satterwhite archive.