"Duran Duran came along in the 1980's as one of the main New Romantic bands. I enjoyed photographing them as they were such a good looking bunch of guys.
I'd photographed them a couple of times before, but this time they asked me to do the cover of their new album "Notorious" in 1986.
They wanted it shot outside, so I found a spot in the countryside with a tree silhouetted in the distance with a moody sky behind. It was a gatefold so I had three of them on the right of the picture and Christy Turlington (a future supermodel, who was only about seventeen at the time) on the left. This was one of her early pictures.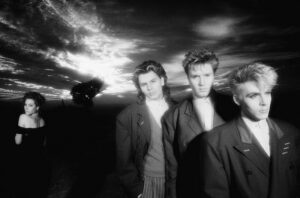 After the shoot they opened a massive bottle of champagne to celebrate, then we drove back to London and they all went out to dinner. It was a great evening, and afterwards some of us went back to John Taylor's house. The model's agency has phoned me to make sure I got her back safely to her hotel. At about midnight everyone had left except John, Christy and myself. As I left I made him promise he would get her a taxi back to the hotel. The next morning the agency rang me up and gave me a very hard time. I didn't bring it up with John – I didn't want to know!
When I showed them the picture a couples of days later, I got the feeling they weren't very happy with them, but they still used them as the album cover. A few weeks after the album came out they flew to New York to have some pictures taken with a photographer out there. When they saw the "Notorious" photo was on the cover the of best American music magazines I got the call to come over do the pictures.
All's well that ends well!"