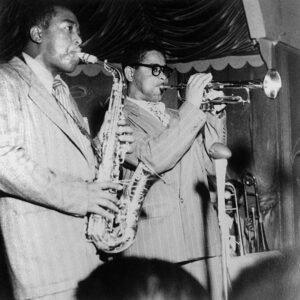 In 1949, The Pershing Ballroom was packed. As was the practice at the time, nobody danced – they had come to listen or maybe they just hadn't learned to dance to big band bebop yet.
The band has been paying for some time and Charlie Parker has not arrived. There was a little unrest among the fans out front – after all, it has been billed at "Charlie Parker with Dizzy Gillespie and his Big Band."
After a rather anxious intermission, Dizzy introduces Bird and the excitement level reach fever pitch! They blew together – or alternating solos – traded fours all with that thundering big band behind them. Aware of Bird's penchat to wander, Dizzy did not give him much opportunity to escape the bandstand.
After some time, Parker wanted a breather, Diz would spin Bird around and shove him toward the microphone and kick off the next number. He knew when Bird left the stand the blowing was over.
Read more from Ted William's remarkable career capturing the icons of jazz and street life in Chicago in from the late 1940's through to 1970's in Jazz by Ted Williams.
Ted's work is also available to purchase in open edition, fine art prints. Contact sam@iconicimages.net for more information.