If you lived in Chicago when jazz ruled the world, you knew the address of the Blue Note by heart. Run by Frank Holzfeind, the original Blue Note proudly displayed a sign on the front door that read: "Here is America's Music as Played by Its Greatest Jazz Artists." Every name in jazz graced its stage, with Duke Ellington even recording his famed 'Live at the Blue Note' album there in 1959. Photographer Ted Williams, who was already making a living by taking photos of some of the greatest musicians who would come to town, was asked by Playboy to grab some snaps of the legendary bandleader and pianist, Count Basie, for an upcoming issue. Williams, however, knew the Blue Note could be tricky for a photographer.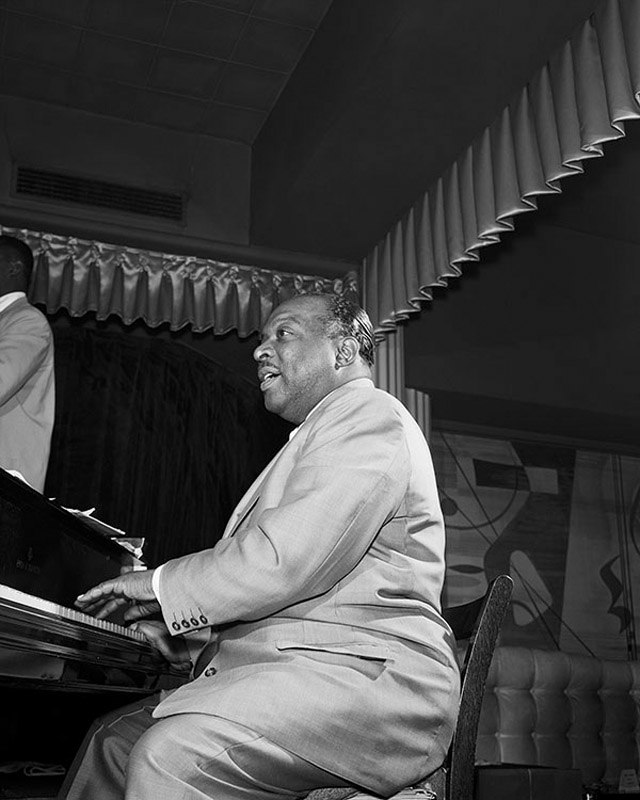 Before Williams passed away in 2009, he remembered that night at the Blue Note.
"This shoot at the Blue Note in Chicago, 1962, was unusual on several levels — owner Frank Holzfeind, not known for being accommodating to photographers, had agreed to let me set up a powerful set of strobe lights at the four corners of the bandstand and shoot the Count Basie Band's opening night of a two-week engagement. It was part of Playboy magazine's coverage for their poll issue. After a mere dozen photos, Frank was ready for us to go home! Or just go! I really tried but it's not easy to be low key and unobtrusive with 20,000 watt seconds of strobe lights going off with each exposure! The band loved it – the patrons thought it was party time – Basie smiled and Holzfeind threatened me with severe bodily harm. I was very lucky, I escaped with my life and a few fine images."
According to the Chicago Reader, "Frank's fatal flaw was that he was a music lover first and a businessman afterward. He turned down profitable bookings in favour of simple enjoyment of someone he liked, and he treated his audiences no less kindly than his attractions." Holzfeind didn't want the photographer to get in the way of a good show. Happily for us, Williams did, and he immortalized Count Basie in these wonderful images.
Limited edition fine art prints are available from the Ted Williams archive. To enquire, contact jackie@iconicimages.net or visit our Fine Art Prints Page.
See more from Ted Williams archive : https://iconicimages.net/photographers/ted-williams