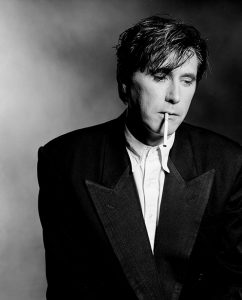 I've known Bryan Ferry for many years. My first shoot with him was the cover of "The Bride Stripped Bare" which was a fantastic shot. I photographed him in the studio, then hired a West End cinema and projected his image onto the enormous screen and in the front row was a very glamorous model, reacting to his sinister distorted face in horror.
I've done some wonderful black and white pictures of him since, which have always been a success as he's such a good looking fellow. You just need to point the camera at him and you get a great picture.
For another possible album cover, he wanted an image of a woman on a cross in an isolated spot location in the country. We were going to use my wife Marianne Leah, but it was abandoned because Smith's and all the other high street record shops of the time wouldn't stock it, even with a blank cover over the picture!
Words and photograph by John Swannell.
See more from John Swannell's archive here