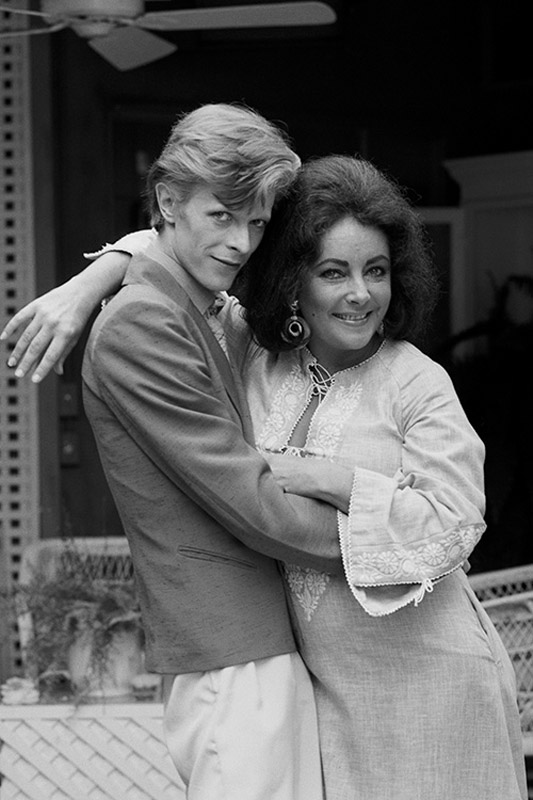 "I was in Los Angeles and one day the phone rang. It was Elizabeth Taylor. I'd worked with Elizabeth a decade previously and we became friends, friendly enough for her to ask me for a favour. 'I'd like to meet David Bowie, can you arrange that?' Imagine that—one of the biggest Hollywood stars of all time wanting to meet David Bowie. I made a few calls and a date and time were arranged.
"We decided to meet at the famed director George Cukor's home. Cukor was planning on working with Elizabeth on an upcoming film and I think she was interested in speaking to David about a possible role. Elizabeth certainly had a reputation for keeping people waiting, but on this day she was well matched. After an hour went by, I could tell her patience was waning. After another few hours he finally arrived. Any anger was quickly dismissed and they laughed like old pals. Of course I had my camera—I wasn't going to miss this meeting. And you can see in these poses, which Elizabeth overly directed, there was chemistry between them. He didn't get the role, if it was even on the table, but they did become lifelong friends.
"I was one of the lucky ones when it came to David Bowie. He was kind and always a gentleman. There will never be anyone else quite like him."
Extract taken from 'Every Picture Tells a Story', by Terry O'Neill. Iconic Images offer signed copies of the publication at the Iconic Store.