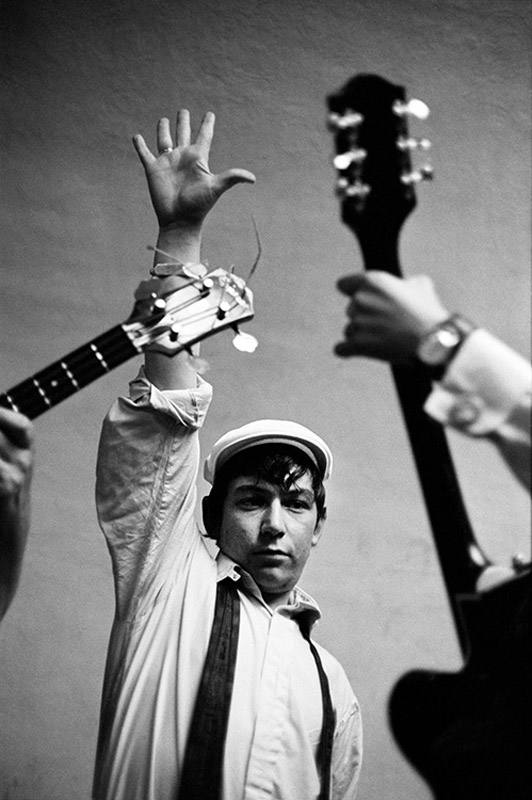 "I was one of the youngest photographers on Fleet Street and because of that I got the assignments to take photos of the bands that were kicking off. My photos of a new band called The Beatles landed on the front page. Another up-and-coming act called The Rolling Stones were just starting to hit. So when I heard about this band from Newcastle called The Animals, I decided to meet up with them. In 1963, the papers wanted musicians and I was the one looking for new talent.
"They were working-class lads so I thought it would be a great set of photos if I took them shopping. They were lugging around their luggage and I took them to try on some hats, look at cufflinks, that sort of thing. I don't think any of them knew what their style was or— importantly—what it was going to be. They didn't really care—all they wanted to do was to get to the studio and start to play. At the studio where I took them, they were playing so loud we were asked to leave!"
A year after these photos, record producer Mickie Most would spot them and produce their first number one hit, 'House of the Rising Sun'. "These photos are before that," remembers O'Neill. "They were in London on a club-swap, meaning they'd play a club in Soho called Scene and the Scene's house band, called The Yardbirds, would go up to play in Newcastle. The Yardbirds, of course, featured another young rising star, Eric Clapton. Incredible, isn't it—all this happening in 1963."
Extract taken from 'Every Picture Tells a Story', available signed by Terry O'Neill from the Iconic Store.