Every week, Iconic Images will be pairing-up some of our friends with the incredible archive of images we proudly represent. In a new featured called "Iconic Picks" – we do a deep-dive into the archives to fish out some absolute gems.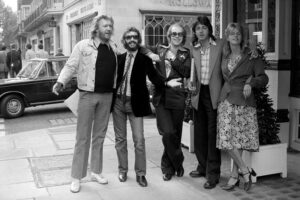 How about this for a Seventies supergroup? Paul and Linda McCartney are hanging out with Elton John, Ringo Starr and Harry Nilsson on a London street. The moment was captured by the brilliant and well-connected photographer Terry O'Neill in 1975, the year Wings released their Venus and Mars album and began their epic Wings Over the World tour. The guy on the right is Joe English, an American who was Wings' drummer at the time. My research reveals that this is South Audley Street in Mayfair. Dig those threads!
Tony Barrell, journalist and pop historian, author of Born to Drum and The Beatles on the Roof, editor of the forthcoming Beatlemania: Four Photographers on the Fab Four, to be published by us this autumn.
–
For fine-art information please contact sales@iconicimages.net
For editorial licensing enquiries please contact ellie@iconicimages.net