This week we hear from Terry Newman, who has worked in the fashion industry for more than twenty-five years, both as an editor (i-D, Attitude, and Self Service) and a writer. She is the author of Legendary Artists and the Clothes They Wore and Legendary Writers and the Clothes They Wore. Newman currently lectures at the University for the Creative Arts in Epsom, England.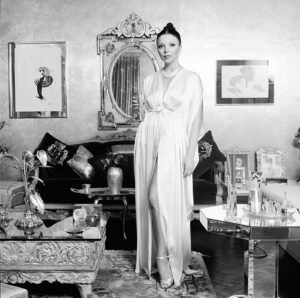 The ambitious ideals of a day off, relaxing and living the best life, are often thwarted by customary domestic environs, chores and conventional obligations that pester the condition of mere mortals. Putting on the Ritz at home, let alone a lounging outfit is a fantasy more often left to the imagination. Or, perhaps Joan Collins whose Belgravia pad is designed to be wafted around with hair tied in a chic top-knot wearing a silky dressing gown, waiting for a glass of Cristal Champagne. Ms Collins built a reputation as a demanding diva, but if you work hard, it's inevitable you'll want to lounge hard too and she is captured doing it with ultimate elegance here in Terry O'Neill's 1970s photo.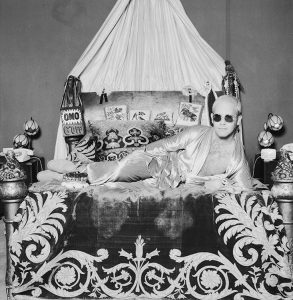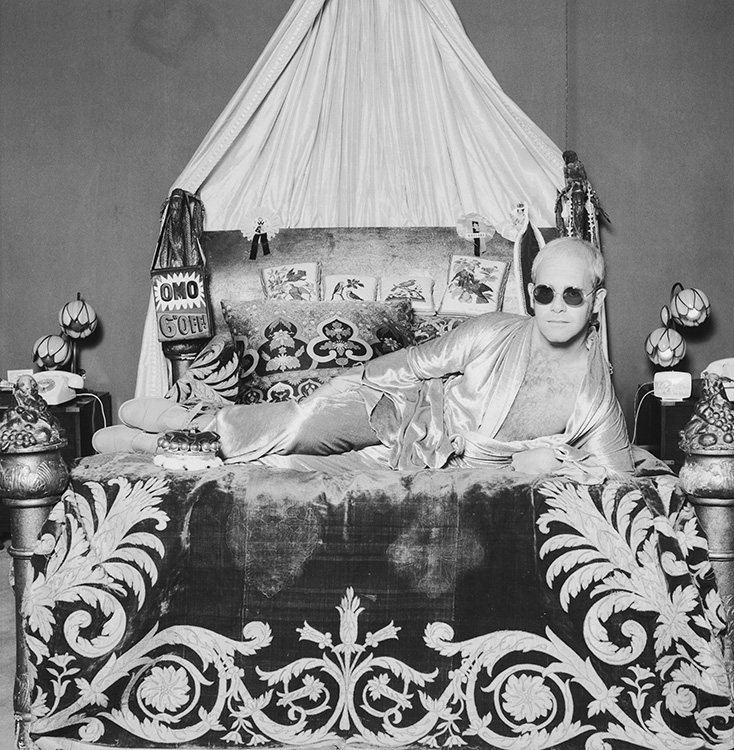 For folk who have been furloughed and have a few hours on their hands, now is possibly the only time to be more like Joan and learn to loll a little more unreservedly. But La Collins isn't the only style icon who knows how to chill stylishly. Elton John, the man who spent almost £300,000 on flowers just to gaze at while at home, naturally has outfits to change into while hanging out. He had a life-long rapport with Terry O'Neil who had 'unprecedented access' to the star and captured him candidly, exactly how he was, which meant in this late '70s shot at Elton's place in Windsor, reclining in his rock and roll silver dressing gown, unbuttoned louchely to the waist, effortlessly unconcerned about the bills.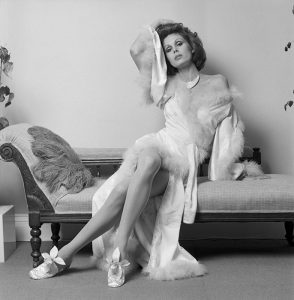 That's the headspace lounging requires. A blithe spirit and possibly a full cocktail cabinet is all you need. The art of lounging requires us to slow-down and forget the edges of panic that ordinarily infiltrate our minds. Instead cultivate nonchalance and indifference to life's worries and concentrate on what you look fabulous wearing. The loafing wardrobe is something Joanna Lumley has finessed here in another of Terry O'Neil's '70s images. The classic boudoir robe-de-chambre is trimmed with flighty marabou plumage and on the ornamental day-bed lies Lumley's ostrich feather fan ready to come to her rescue in case the heat of the day destroys her concentrated effort to look absolutely fabulous. Counterintuitively, choosing what to wear while at home can be a worry and finding the balance between being just a tad over or underdressed is a talent only real experts are endowed with.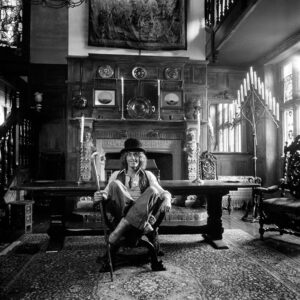 One of the least likely loungers, Roger Daltrey however bends all the rules, mixes and matches a formal bowler hat, walking stick and waistcoat with faded denim flares and corkscrew curled hair and looks exactly right posing as an eccentric lord of the manor in the baronial wood-panelled hallway at his Sussex estate. It's one of the most iconic photos of the star and pictures The Who singer, king of his own castle, putting his feet up and being exactly who he wants to be, right there and then. It's precisely what lounging is all about.
So what's your lounging outfit of choice and what will you do while you're at home today?