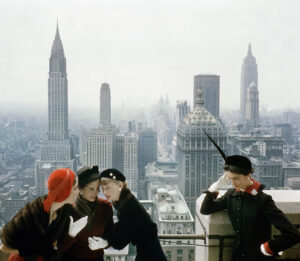 In 1949, after several years of great success with British Vogue, Norman Parkinson and his wife and muse, the model Wenda Parkinson, set their sights further afield. They travelled to New York where Parks worked for the American edition under the watchful and exacting eye of the legendary art director Alexander Liberman. Liberated by the increased budget attached to American Vogue commissions, and as a result, presented with greater freedom to use colour film, Parkinson set about photographing the vistas of his newly adopted city.
This shot, taken from the roof of the Condé Nast building on Lexington Avenue, was for a 'Hat Fashions' story that ran in the October 1949 issue of American Vogue. With a view of the Chrysler and Empire State buildings, the models are captured mid-gossip, their pose perhaps suggestive of a quick catch-up taking place during a busy lunch break.
The cool blues of the urban sprawl are punctured by deep pink accents; a velvet hat; the young women's lipstick; a collar and cuff, dispersed horizontally, drawing the eye across the frame. Parkinson's cleverly graphical composition captures the confident diagonal slant of one of the model's feathered hats, angled just so, echoed by the mast to her right and the strong vertical lines of the city's architecture behind her.
Norman Parkinson had, by 1949, been working as a successful and sought after photographer for fifteen years. So far removed from the still bomb-ravaged landscape of his home country, Parkinson's time in America was a formative experience and it undoubtedly contributed to the professional golden age he would go on to achieve in the following decade. 'Hat Fashions', one of Parkinson's most well-known and loved shots, was taken by a photographer at the height of his powers, literally and metaphorically. The expansive and dynamic Manhattan landscape unfolds itself beneath both the animated group of young women and Norman Parkinson himself, offering limitless promise and opportunity.
For purchasing options, contact sam@iconicimages.net