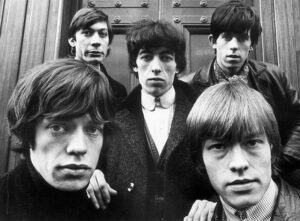 "My career was just starting out when I first met The Rolling Stones. I was the youngest photographer on Fleet Street and the editors knew I loved music. So I got all the music assignments, and soon enough they started to ask me who to photograph. Musicians in the papers meant the papers sold. It was Andrew Loog Oldham who called me up and asked me to take photos of this new band he was managing. I went down to the Crawdaddy Club in Richmond to see the band, and I just knew in an instant they were special. They were doing a lot of covers—only covers, in fact. Great blues songs that I loved being performed by this young group of lads. They were young; I guess we all were at the time! But looking back at these photos today, you forget how young they looked. And they didn't quite know what their style was going to be, and style was everything back then." – Terry O'Neil, extract taken from "Every Picture Tells a Story".
This iconic photographs is available to purchase as a limited edition, fine-art print.
Contact sales@iconicimages.net for more information.