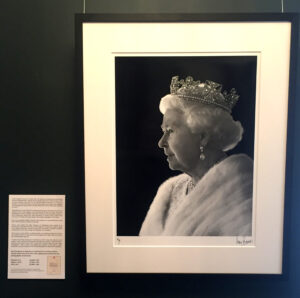 Iconic Images is proud to release HM The Queen by Greg Brennan for the first time as a limited edition, signed, fine-art photographic print. Robin Morgan, CEO of Iconic Images, notes that "for an informal portrait captured in a moment it displays such stunning detail and technical prowess one might have imagined the photographer had enjoyed a private sitting with HMTQ rather than a fleeting moment."
Greg Brennan is one of Britain's longest standing press photographers who has captured some of the biggest news moments of the last 25 years. Brennan's photographic archive includes portraits of musicians from the Rolling Stones to Amy Winehouse; actors from Jack Nicholson to Johnny Depp; royalty from numerous countries and world leaders from Nelson Mandela to The Pope.
One of his greatest subjects, though, was someone he was determined to get right; HM The Queen. As Brennan recalls:
"Every year during the State Opening of Parliament there would be a procession. I knew that would be my best chance of capturing an image I've had in my head for decades. I wanted to show HM The Queen in portrait, a modern interpretation of the iconic image that appears on our stamps.
"Every year I would stand in a different place, at a different height and wait for the moment to arrive. I was determined to capture the image I had in my mind. And determination paid off.
"It was at the State Opening of Parliament in 2015 when she rode by in full regalia. I took a series of photographs and after she passed, I looked at what I captured. And there it was; I had it. It took me 12 years to take this one, single photograph. I sent a copy to the palace and received a kind letter in return asking for a copy of the print for the Royal Photographic Collection for posterity."
Contact sales@iconicimages.net for more information and pricing.