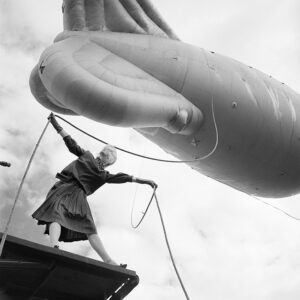 Suzanne Kinnear photographed by Norman Parkinson for the September 14th 1960 issue of Queen magazine in the feature 'Sky High Ballooning: High Altitude Dressing'. Kinnear wears a tortoiseshell printed silk chiffon dress by Christian Dior and pulls a hot air balloon belonging to the Cardington R.A.F. Station in Bedfordshire.
Born in Doncaster on October 8th 1935, Kinnear came to London in 1958 to pursue modelling, as well as a career in television and public relations.
This photograph from the Norman Parkinson Archive is now available as a limited edition, fine-art print with Iconic Images.
Contact our fine-art department for more information.