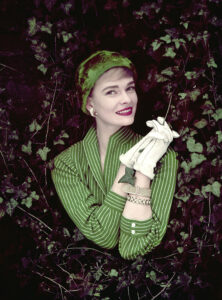 Susan Abraham (b. 1930) on the cover of British Vogue, February 1955 wearing an 'Italian-influenced shirt in popular leaf-green' made from a Vogue pattern, green hat by Simone Mirman and lipstick by Elizabeth Arden.
Abraham was one of Norman Parkinson's frequent fashion models in the early 1950s. She was born in Burma and grew up in Dublin and Connecticut, thereafter moving to London to pursue her modelling career. Shortly after this photograph was taken, Abraham married and retired from modelling.
Available to purchase as a limited edition, fine-art print with Iconic Images.
Contact sales@iconicimages.net and quote 'NP_FA_SA003' for more information.