Ed Caraeff is a photographer and art director. He has worked with, photographed, designed or art directed hundreds of album covers. His photography archive includes Jimi Hendrix, Jim Morrison,Iggy Pop and The Stooges, Elton John, Carly Simon,Linda Ronstadt, Dolly Parton, Tom Waits, Tim Buckley, Tom Petty & The Heartbreakers, Neil Diamond, Bob Dylan and Marvin Gaye.
His work is included in the permanent collection of The Rock and Roll Hall of Fame and has been featured on the covers of numerous magazines, world-wide. His ground-breaking chance photo of Jimi Hendrix burning his guitar on-stage at the Monterey Pop Festival in 1967 is widely considered to be one of the most iconic rock photos of all-time and is the only photo ever to appear twice on the cover of Rolling Stone magazine.
Now, for the first time, Iconic Images are delighted to offer signed copies of his new publications 'Burning Desire: The Jimi Hendrix Experience through the Lens of Ed Caraeff' and 'Iggy & the Stooges: One Night at the Whisky 1970'. Less than 30 of each publication available so make sure to purchase whilst stock lasts!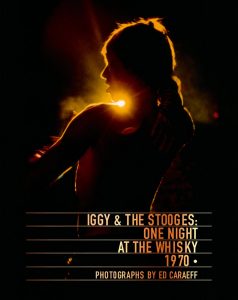 In May 1970, The Stooges were in the middle of recording their celebrated album, Fun House at Elektra Records Recording Studio in Los Angeles. That same month, they appeared at the Whisky a Go-Go on Sunset Boulevard for two incredible nights. Ed Caraeff, a new rock photographer who had burst onto the scene three years prior with his now-iconic image of Jimi Hendrix burning his guitar onstage at Monterey, happened to be in that crowd, and took a plethora of wonderful pictures. Only a few stills from that phenomenal gig were ever reproduced. Most famously, one was used on the cover of Fun House. The rest were filed away. Until now. Ed Caraeff's coverage of this monumental moment is reprinted here for the first time in book form. He not only captures the energy, madness and raw power of Iggy Pop's performance, but also the preceding minutes before the band stepped onto stage and made history. Along with images and contact sheets, original interviews shed new light on that unforgettable night.Interviewed by pop-culture historian Jennifer Otter Bickerdike, names include Jac Holzman, Head of Elektra Records during the recording of Fun House; Mikael Magliere, son of Mario Maglieri, owner of the Whisky a Go-Go when The Stooges played in 1970; Danny Fields, a DJ/publicist credited for signing MC5 and The Stooges; and Jeff Gold, music historian and noted Iggy Pop biographer. A tribute to the band that rocked the world, Iggy Pop & The Stooges: One Night at the Whisky, 1970 will revolutionise your view of music.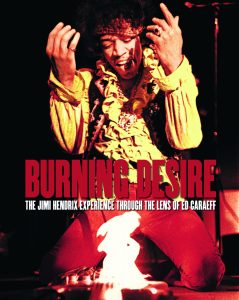 In 1967, a 17-year-old aspiring photographer named Ed Caraeff found himself front row at the Monterey Pop Festival, California. Caraeff had never seen Hendrix before, nor was he familiar with his music. But Caraeff had his ever-present camera and as Hendrix lit his guitar, he snapped a photo. That picture – Hendrix burning his guitar at Monterey – has become one of the most iconic images of rock and roll. A photo that defined Hendrix as an artist, appeared on the cover of Rolling Stone magazine not once, but twice, and launched Caraeff's photographic career. Timed to celebrate the 50th anniversary of the Monterey Pop Festival, Burning Desire reveals never-before published images from the magnificent, Hendrix-dedicated archive that Caraeff has compiled.