Lead singer Johnny Rotten (John Lydon) and bassist Sid Vicious of British punk band the Sex Pistols photographed performing on stage at a free concert for the children of striking firefighters, held at Ivanhoe's in Huddersfield, England on Christmas day 1977.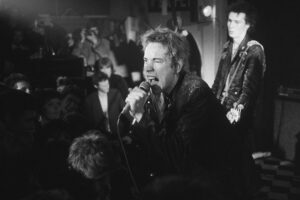 This image is available to purchase as a limited edition, fine art print signed and numbered by Kevin Cummins.
For more information contact the Fine Art Team.