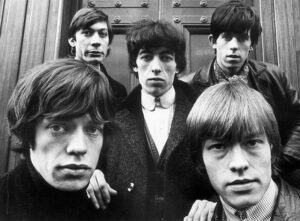 On the 17th January 1964, Terry O'Neill stood outside St. George's Church in Hanover Square, London with five young musicians taking some of their first photographs as a group. Little did O'Neill know, that this group would go on to pioneer and shape the world of Rock'n'Roll and his photograph would be one of the most iconic of the group in their early years. Clockwise from bottom left: Mick Jagger, Charlie Watts, Bill Wyman, Keith Richards and Brian Jones (1942 – 1969).
This photograph is now available to purchase as a limited edition, fine art print, hand-signed and numbered by Terry O'Neill.
Available in sizes from 12×16 to 72×108, for more information contact sam@iconicimages.net or visit our Fine Art Prints page.