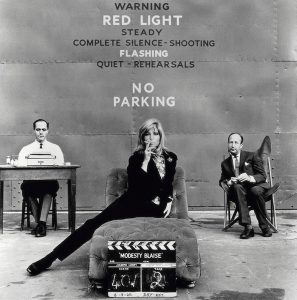 In 1966, Terry O'Neill was invited over to take photos on the set of Modesty Blaise, starring Monica Vitti. Vitti only made two English-language films in her career. Her first, the spy-spoof adaptation of a popular comic strip, cast her as Modesty Blaise opposite two of the most important leading men in Britain, Terence stamp and Dirk Bogarde.
In this iconic photograph, Italian actress Monica Vitti poses with a clapperboard alongside the author of the Modesty Blaise book, Peter O'Donnell and film producer Joseph Janni.
This photograph is available as a limited edition, fine art print, signed and numbered by Terry O'Neill in sizes ranging from 12×16 to 48×72.
For more information, e-mail us or check out our fine art print guide page.