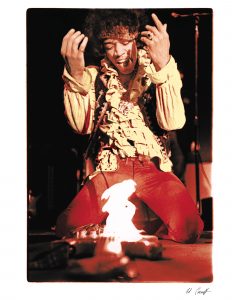 18th September marks 50 years since rock'n'roll pioneer Jimi Hendrix passed away. Arguably there is no image more iconic than the only photograph to appear twice on the cover of Rolling Stone Magazine, Hendrix burning the guitar at Monterey, by Ed Caraeff.
Detailed further in "Burning Desire: The Jimi Hendrix Experience through the Lens of Ed Caraeff", Caraeff discusses the what led to immortalising a moment that defined Jimi Hendrix as an artist.
This image is available to purchase as a limited edition fine-art print, signed and numbered by the photographer.
For sizing and prices, contact sales@iconicimages.net
View more from Ed Caraeff's archive including photographs of Dolly Parton, Iggy Pop, Bob Dylan & more here.