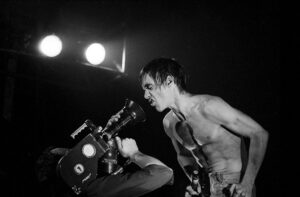 American singer Iggy Pop performing on tour supporting his new album 'Lust for Life' at the Manchester Apollo, September 25, 1977.
Available to purchase as a limited edition, fine-art print signed and numbered by Kevin Cummins.
Contact our sales team for full information – sales@iconicimages.net
Manchester born Kevin Cummins has an international reputation as one of the world's leading photographers. His iconic portraits of musicians include Joy Division, Liza Minnelli, Nick Cave, Patti Smith, Philip Glass, Oasis, and David Bowie. These images have appeared on magazine covers, in art galleries, featured in international films, and are included in the collections of The National Portrait Gallery and The V&A amongst others. Cummins captured key moments in the Manchester music scene and these images helped to define the cultural history of the city. They not only portrayed people and places but created a new way of looking at Manchester and remain embedded in the cultural memory of the north. Bedroom walls all over the world have been, and are, decorated with his work.