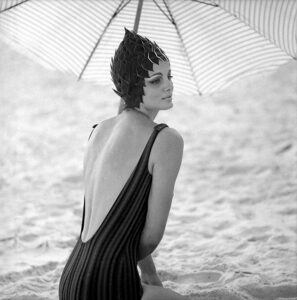 Dolores Wettach (b. 1937) Swiss actress and fashion model photographed for the 24 May 1961 issue of Queen magazine. As part of the feature 'Cool Pool Looks' Wettach wears a black swimsuit with red stripes by Helanca and a petalled cap by Kleinert.
In 1961, photographer Milton H. Greene described Wettach as "the newest, most dewy-eyed model this year". Wettach featured in several early 1960s photoshoots by Norman Parkinson and is best known for his photographs taken of her in Peru. Three years after this photograph was taken, Wettach starred in Renato Castellani and Marco Ferreri's 1964 film 'Countersex'.
Available to purchase as a limited edition, fine-art print with Iconic Images.
Contact sales@iconicimages.net for more information.