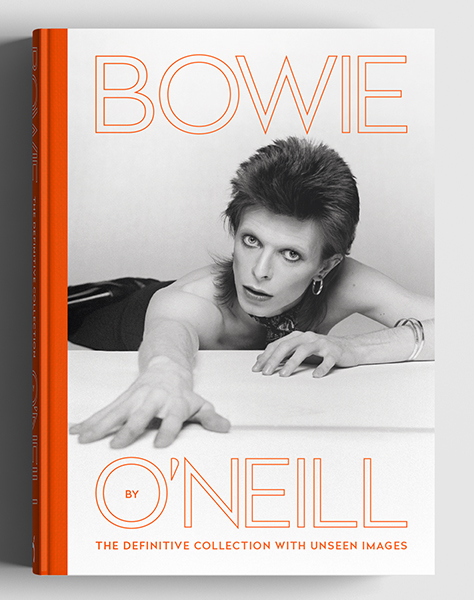 To celebrate the launch of Bowie By O'Neill, Iconic Images are giving away not one, but three copies of 'Bowie By O'Neill' trade edition, signed by Terry O'Neill.
"When I first started to collect all my images and contact sheets of David Bowie, I didn't realize how many I had! That first phone call I received to work with Bowie resulted in a real partnership between us; I was lucky enough to get that call and smart enough to say yes. He was a one-of-a kind, always changing and a true genius. It gives me great pleasure to be able to share with the world the images I captured and my memories of working with this extraordinary artist. He has the most loyal fans I've ever come across and I truly hope this book brings them a lot of joy." – Terry O'Neill
Originally released by Red Engine as a deluxe, limited edition art book retailing at £1,500, this long-awaited retail edition will include 16 pages of new material, and will be published on 8th August.
This is the breathtaking result of iconic photographer Terry O'Neill's creative partnership with David Bowie over a number of years. Containing rare and never-before-seen photographs, their work together includes images from the final Ziggy Stardust performance, recording sessions for Young Americans and the renowned studio portraits for Diamond Dogs – plus live shows, film shoots, backstage moments and more.
With more than 500 photographs including contact sheets published here for the first time and an introduction from Terry discussing in detail his experiences of working with David, this is the ultimate portrait of an inspiring, challenging and ever-changing artist.
Terry O'Neill is one of the most important photographers of his generation, taking iconic portraits of artists from The Beatles to The Rolling Stones, Elizabeth Taylor to Audrey Hepburn. He has worked with such icons as Michael Caine, Brigitte Bardot, Sean Connery, Terence Stamp, Ava Gardner, Paul Newman, Robert Redford, Raquel Welch, Roger Moore, Amy Winehouse, Nelson Mandela and hundreds of others. Frank Sinatra, whom O'Neill worked with for several decades, considered him a friend and O'Neill had a close working relationship with David Bowie, including photographing the iconic "Jumping Dog" image used for the promotion of Diamond Dogs. O'Neill's photograph of Faye Dunaway sitting by the pool the morning after winning the Academy Award in 1977 is widely considered to be the most iconic image of Hollywood. His work is included in permanent collections in museums, galleries and private collections worldwide.
Three winners will be contact via e-mail on 30th August 2019.
Sign up for a chance to win!